Brewery in Fort Myers, Florida
Located in Downtown Fort Myers, we're a micro-brewery with decades of experience in the industry and a love for good beer and good times.
Current Hours
Monday-Thursday 3pm-9pm
Friday-Saturday 1pm-10pm
Sunday 1pm-7pm

With 16 tapz, we've got our staples like Seaz The Day Hazy IPA and Beach Hound Brown, and regularly feature a few specialty and guest tapz also.
Inside the brewery, you'll find friendly faces and a chill atmosphere while you enjoy one of our beer flights. Outside, you can relax under an umbrella on the patio and watch the world go by as you and your favorite people (and pets) spend the day or night in our downtown paradise.
We regularly have food vendors serving inside the brewery (find out who and when here) and you can also bring your own food in or have some delivered.
Unfortunately, due to our limited size, layout, and chill atmosphere, we are unable to provide space or entertainment for children.

With a passion for beer and wanting to create a local place to visit with old friendz, meet new friendz and hang with fur-friendz, Coastal Dayz Brewery was created in April of 2018. The Bethune family, hailing from Colorado, fell in love with the Fort Myers area and started their craft beer journey in a small corner building on McGregor. With Gary's passion for beer, Lisa's mind for business, Alana's marketing talent and of course little Ruby's guidance (The Bethune's miniature Aussie), Coastal Dayz Brewery became exactly what they hoped for.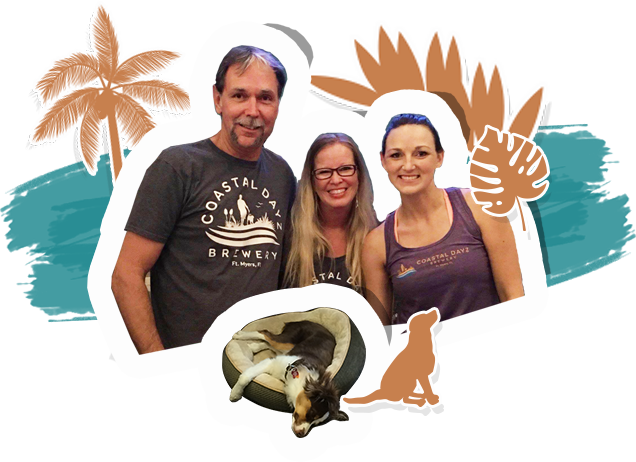 Within a year, the brewery was growing more than expected and Gary needed someone to assist with brewing. Little did everyone know that the young man hired would become the future of the brewery! Alex Tatko came into the brewery as an assistant brewer in 2019 with a love of craft beer after graduating law school and discovering his passion is in the craft beer industry. With a homebrew contest win under his belt and lots of accolades he immediately proved he was a hard-working young man and became an invaluable asset to the brewery.
The relationship between The Bethune's and Alex became more family than business. After only a year with the company, Alex quickly became the head brewer. You might say he did too good of a job! By working as hard as he did, the Bethune's realized they didn't need to spend so many hours there. In 2022, being able to work less hours convinced the Bethune's it was time to sell the business and enjoy retirement.
Knowing the sale of the brewery was becoming a reality, Alex stepped in and used his hard work and love for the brewery to show the Bethune's that he was the right person to buy the business. Possibly one of the youngest sole owners of a brewery in Southwest Florida, the Bethune's couldn't be prouder of where the brewery is headed. By adding his own experience, brewing talent, and ambition to take the Coastal brand to another level, Coastal Dayz Brewery has begun the next chapter with more beer choices, more fun events and is still the perfect place to visit with old friendz, meet new ones and enjoy a brew with those fur-buddiez!