Brewery in Fort Myers, Florida
Located in Downtown Fort Myers, we're a micro-brewery with decades of experience in the industry and a love for good beer and good times.
Current Hours
Monday-Thursday 3pm-9pm
Friday-Saturday 1pm-10pm
Sunday 1pm-7pm

With 16 tapz, we've got our staples like Seaz The Day Hazy IPA and Beach Hound Brown, and regularly feature a few specialty and guest tapz also.
Inside the brewery, you'll find friendly faces and a chill atmosphere while you enjoy one of our beer flights. Outside, you can relax under an umbrella on the patio and watch the world go by as you and your favorite people (and pets) spend the day or night in our downtown paradise.
We regularly have food vendors serving inside the brewery (find out who and when here) and you can also bring your own food in or have some delivered.
Unfortunately, due to our limited size, layout, and chill atmosphere, we are unable to provide space or entertainment for children.

Born and raised in Colorado, Gary, a Navy Veteran, had a long career with a large beer company that peaked his interest in all aspects of quality craft beer. After leaving there, he did a lot of traveling with engineering firms and had great opportunities to drink beer all over the world. With an engineering mind, lessons from his travels and a love of beer, home-brewing made our house the most popular destination in the neighborhood.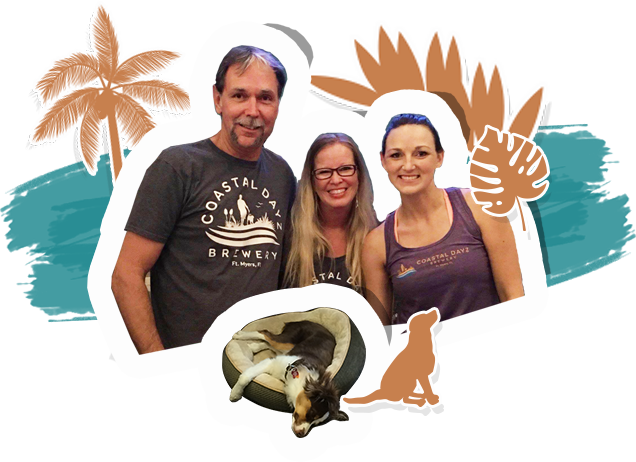 Often times, we would come home to find friends and family already starting their evening in our garage/mini taproom! Our home being at the entrance of our neighborhood made it difficult for neighbors to go home without stopping in for a pint or two. We lived in Golden, between Denver and Boulder where you can find a micro-brewery on just about every corner, each one, having their own personal style. And we certainly tried to visit as many as we could!
Lisa, also raised in Colorado, worked in accounting for years while owning/operating a small business along the way. Managing the employees and business side of the operation is her main focus so Gary can put all of his energy in the most important part… the beer! Although not a brewer herself, she likes to think she is a professional taster! Hey, somebody has to do it!
We are an inseparable couple who have planned for years to open our own small brewery. After living with the snow for so many years, we decided in 2015 that Southwest Florida is where we wanted to be full time. So, we packed up, moved down and began our search for our brewery location. What we expected to be a fairly quick process, turned into two years of searching. We had no idea how difficult it would be to find the right building, zoning and landlord! Thankfully, all of the local breweries have been incredibly helpful and always encouraging us and answering our endless questions to get us to this point. We want to provide customers with a relaxing, breezy, sitting on the pier kind of experience while enjoying a delicious craft beer. Hence the name Coastal Dayz….It really iz all about the beer!