1 Year Anniversary
published April 27, 2019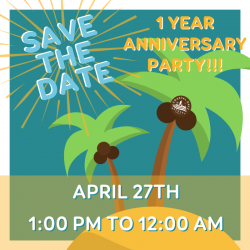 04/27/2019
1:00pm - 11:59pm
Location
Coastal Dayz Brewery
We're closing down our parking lot to celebrate with you! Join us for live music, great food, games, raffles, souvenir taster glasses & t-shirts and of course, awesome beer! Rain or shine, we're partying!!!
ALL BEER IS $5 ALL DAY LONG!!
**Limited seating, so please bring your own chair**
LIVE MUSIC:
The Woodwork 2:00 – 5:00 pm
Mad Soul 7:00 – 10:00 pm
FOOD:
Beach Brothers BBQ 1:00 – 9:00 pm
Rollin' Raw Bar 3:00 – 8:00 pm
RAFFLE:
One ticket per person or get 5 tickets and a FREE BEER with the purchase of a 5oz souvenir taster glass – $10 (limited quantity, so get here early)!!!
Give-aways and raffle winners announced between 5:00 and 7:00 pm! (Must be present to win)
Additional details and announcements will follow this week on our FB event page, so stay tuned! Cheers!