Trivia After Dark (Adult Trivia)
published September 29, 2023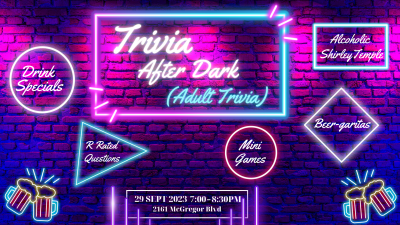 09/29/2023
7:00pm - 8:30pm
Location
Coastal Dayz Brewery
Introducing our newest FREE event: Trivia After Dark (Adult Trivia) on September 29th from 7:00-8:30pm!
We are putting together special questions just to test how R rated your knowledge is, it'll be fun for all ages 21+! Don't fret though, we won't bring out too many dirty questions, we'll keep it fun for everyone. There will be lots of prizes including free beer, gift cards and even mini games in between rounds!
We will even have drink specials including Slutty Shirley (Alcoholic Shirley Temple) and Beer-Garita Cream Ale. Order one and get a special token that grants you a one free answer that night for your team (one per team).
Radical Rations ft Madam Mac will be serving up delicious grub to keep your brain fueled as you participate in a night of adult fun!
So, leave your little ones home, grab your friendz and join uz for a fun night of adult trivia!