Beer Tastings at The Alliance GreenMarket
published July 13, 2019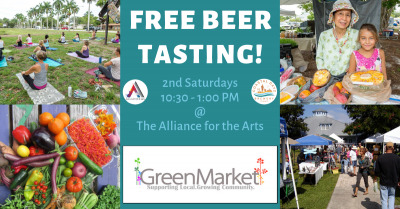 07/13/2019
10:30am - 1:00pm
Location
Alliance for the Arts
The Alliance GreenMarket welcomes Coastal Dayz Brewery on the second Saturday of every month, to introduce themselves and their craft brews to locals and visitors!
The Alliance for the Arts GreenMarket (10091 McGregor Blvd – artinlee.org) has been a community hub for a decade, featuring a selection of local growers, bakers and artisans every Saturday morning, and offering fun, sustainable and enriching activities that range from free yoga to urban farming workshops, recycling drives to cooking local demos.
Starting at 10:30, right after the GreenMarket Yoga offered by local studio Yoga Bird, Coastal Dayz will offer a selection of their more than a dozen varieties of handcrafted ales to the public for free tastings.