Booty Barrel Release!
published January 11, 2021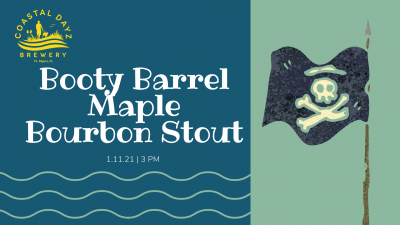 01/11/2021
3:00pm - 9:00pm
Location
Coastal Dayz Brewery
Ahoy, matey! It'z finally time to wake our beer from it'z slumber! Join us 1/11 at 3pm when we tap a barrel aged stout! Reel Stout, lied to rest in a Maple Bourbon Barrel for three months. The barrel was originally home to Heaven Hill bourbon then after it was dumped it became home to organic maple syrup, some of which was added back into the beer. A mild bourbon flavor can be found on the backend of the palette while a robust slightly sweet maple flavor shines through on the forefront. This beer will have you shouting from the crows nest, "Blow Me Down"! Cheerz!!