Brewery Scavenger Hunt
published December 28, 2019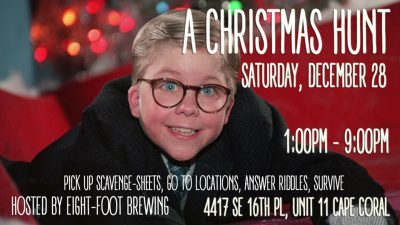 12/28/2019
1:00pm - 9:00pm
Location
Coastal Dayz Brewery
Get your families together for another epic edition of our #swfl #scavengerhunt.
How it Works:
Start at any location. Get a riddle/answer sheet, Answer the riddle, then go to the next location.
Coastal Dayz Brewery
Scotty's Bierwerks
Big Blue Brewing
Eight-Foot Brewing
Please, note, this is a team event. Groups will only be given 1 answer/riddle sheet.
Once you answer the riddle at the location, have the bartender stamp your answer sheet (you must have stamped answer sheets to be eligible for prizes).
Return your completed and stamped answer sheets to Eight-Foot Brewing by 9:00 pm. They will be graded and entered for a chance to win some great prizes from the participating locations.
Winners will be announced within the next few days.
Prizes are being donated by the participating locations. Check the discussion section for updated prize lists.
***IT IS HIGHLY RECOMMENDED TO UTILIZE A DESIGNATED DRIVER OR UBER***
***WE WILL NOT SERVE YOU IF YOU APPEAR INTOXICATED***