Cinco De Mayo Festivities ft. Swamp Cap Brewing Co Tap Highlight
published May 5, 2023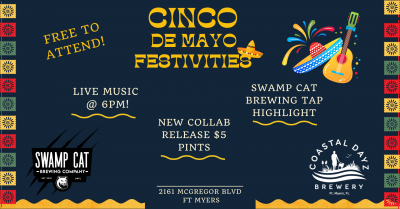 05/05/2023
5:00pm - 10:00pm
Location
Coastal Dayz Brewery
Cinco De Mayo is here and what better way to celebrate than beer and music! We teamed up with our downtown friendz over at Swamp Cat Brewing Company to put together an evening full of fun. For those of you who don't know, Swamp Cat Brewing Co is going to be Ft Myers' newest downtown brewery (ETA: October 2023). They will be here pouring free samples of their brewz starting at 5pm until sold out; they will also have shirts and stickers as well! Come on out and show them some SWFL Downtown support!
If that wasn't enough, we teamed up with them to brew Coastal Cat Ale, a super crisp lime ale to celebrate the holiday. This light ale will be on sale for $5 just for the event!
There will also be live music starting at 6pm! What are you waiting for, mark your calendars now.