Empanada & Beer Pairing
published June 23, 2023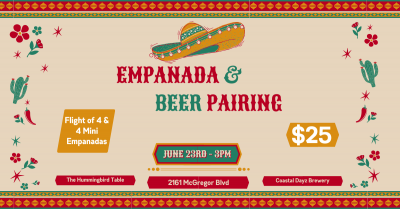 06/23/2023
3:00pm - 9:00pm
Location
Coastal Dayz Brewery
Introducing the next edition in our food pairing series – an empanada & beer pairing! We paired up with our friendz from The Hummingbird Table and created a mouthwatering lineup of miniature empanadas to pair perfectly with our brewz.
The Menu:
Beef Empanada – Beachhound Brown
Chicken Empanada – Gulf Coast Gold
Pizza Empanada – Rock N Reef Irish Red
Guava & Cheese Dessert Empanada – Homeport Honey Wheat
A $25 ticket gets you a flight of 4 5oz pours and 4 miniature freshly made to order empanadas.
We highly suggest you reserve your spot NOW (only $12 to reserve)! It is the easiest way to make sure you get a spot, and it allows our vendor to prepare enough pairings for everyone. The pairing will be available starting at 3pm on June 23rd and will go till we are sold out! You may come any time after 3pm to redeem your reservation.