Everblades Kelly Cup Extravaganza
published September 30, 2023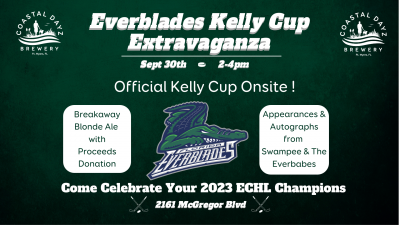 09/30/2023
2:00pm - 4:00pm
Location
Coastal Dayz Brewery
Official Everblades Kelly Cup Extravaganza 2-4pm
Introducing an event like no other! That's right, we are partying in style as we celebrate the Florida Everblades winning the Kelly Cup BACK TO BACK! In case you were living under a rock, back in June the Florida Everblades defended their title by winning the Kelly Cup for the 2nd year in a row.
The whole gang will be at the brewery partying including the Everbabes and even Swampee! Feel free to bring in your jerseys and merch as they will be signing autographs and hanging out all throughout the event. It doesn't stop there; we pulled some strings and will even have the Kelly Cup in house! You read that correctly, come on out and take a picture with the Official Kelly Cup!
If that wasn't enough, we partnered up with the Everblades to create to perfect beer release – Breakaway Blonde, and yes it will be green and $1 of every sale will be going to the Everblades charity to help kids who are less fortunate experience the thrill of a Florida Everblades game!
So what are you waiting for, grab the family and come on out and join us in celebrating your 2023 ECHL Champions!