FOOD & BEER PAIRING Event with The Hummingbird Table
published March 28, 2022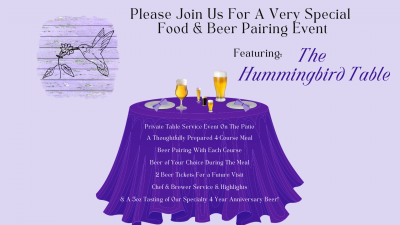 03/28/2022
7:00pm - 9:00pm
Location
Coastal Dayz Brewery
Kick off our 4-year Anniversary week with a Food & Beer Pairing event featuring the incredible Hummingbird Table that you DON'T want to miss!!!
To be held on Monday, March 28th at 7:00pm with limited seating… procrastination is not advised!
Warning:  Reading this 4-course event menu WILL make you hungry!
BEGINNINGS: Organic Free Range Chicken Liver Pate, Crostini, Fresh Herbs & Accents
STARTER: Steamed Local Little Neck Clams, Chorizo, New Bliss Potatoes, Local Herbs, White Wine Consomme & Toast Points
MAIN: Land and Sea Petite Filet, Florida Gulf Coast Jumbo Prawns, Garlic "Smashed" Yukon Gold, Beurre Blanc & Pan Roasted Brussels
SWEET: Double Chocolate-Bacon Brownie, Heritage Pork Belly "Candied" Bacon & Whipped Crema
Details:
A Private Patio Table Service Event
Limited seating, tables for 4
May be seated with others if less than 4 in your party
A 5oz Beer Pairing With Each Course
1 Beer of Your Choice During The Meal
2 Beer Tickets For a Future Visit
Chef & Brewer Table Service & Highlights
& A 5oz Tasting of Our Specialty 4 Year Anniversary Beer!
$100 Per Person, Gratuity & Tax Included!
Payment required at the time of reservation, payments only taken at the brewery.
No refunds for cancellations on or after March 18th
Note: 4 Standard 8oz glasses of house wine may be substituted for beer OR you may bring your own wine – No price discount
We hope to serve you on this beautiful evening!
Cheerz!