Fundraiser – Alliance for the Arts
published October 29, 2019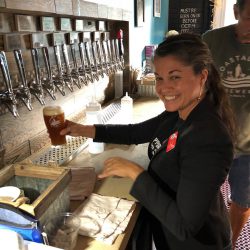 10/29/2019
6:00pm - 8:00pm
Location
Coastal Dayz Brewery
Sip back and relax with the Alliance for the Arts and Coastal Dayz Brewery as AFTA executive director Lydia Antunes Black serves as a guest bartender on Tuesday, October 29 from 6 – 8 p.m. Let our fearless leader keep you (responsibly) hydrated as we pregame for our annual fundraising event, Arts On Tap! The American Grilled Cheese Kitchen will be on site so you can get a taste of what's to come at Arts on Tap.
All tips from the evening will be donated to the Alliance, a nonprofit community visual and performing arts center whose mission is to transform lives and improve the community through the arts.
Arts On Tap Fundraiser on Nov. 9. Now in its third year, Arts On Tap is a taste of creativity in the Alliance gallery featuring the craft of local brewers including Coastal Dayz.Other breweries include: Big Blue Brewing, Eight-Foot Brewing, Millennial Brewing Co., Momentum Brewhouse, Naples Beach Brewery, Palm City Brewing and Point Ybel Brewing Company.While you drink, enjoy tastings from The American Grilled Cheese Kitchen, Downtown House of Pizza, Kings Kitchen, Nice Guys Pizza and The Standard.
Arts on Tap is sponsored by Briers CPA, Custom Packaging & Products, EnSite, Inc., GMA Architects & Planners, Owen-Ames-Kimball Company, Priority Business Solutions, Megan & Jon Romine, Seminole Casino Hotel and Winged Foot Title, LLC.
Arts On Tap tickets and details are available at ArtInLee.org/OnTap.
Who: Lydia Black, Executive Director of Alliance for the Arts
When: Thursday, Oct. 29 from 6 – 8 p.m.
Where: Coastal Dayz Brewery, 2161 McGregor Boulevard Fort Myers, FL 33901