Halloween DJ @ Coastal Dayz
published October 31, 2022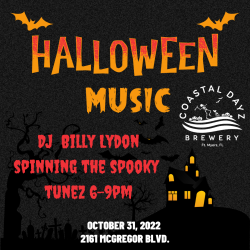 10/31/2022
6:00pm - 9:00pm
Location
Coastal Dayz Brewery
Are you looking for the perfect chill place to hangout this Halloween or perhaps pregame before heading out trick or treating? We have got you covered! What we are offering is much better than fun sized candy bars and bite sized rolls of chocolate, we are releasing not one but TWO new holiday themed drinks. First up is a caramel apple sour that will give you that holiday treat fix without costing your wallet a trip to the dentist. Followed by a brand-new experimental seltzer: maple chocolate, don't let the sweetness scare you away though as this fizzy drink is quite delicious.
Please welcome DJ Billy Lydon as he will providing all the spooky tunez and energy from 6-9pm!
If that wasn't enough to entice you, come dressed up in your spookiest, funniest, or scariest costume and receive 50% off your first drink! What are you waiting for, mark it down in your calendar now before you forget!