Halloween Party
published October 31, 2023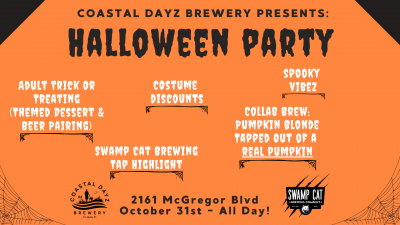 10/31/2023
4:00pm - 9:00pm
Location
Coastal Dayz Brewery
Spooky Season Iz Here
Are you looking for the perfect chill place to hang out this Halloween or perhaps pregame before heading out trick or treating? We have got you covered!
What we are offering is much better than fun sized candy bars and bite sized rolls of chocolate, we teamed up with a local bakery to offer an Adult Trick or Treating experience. Four deliciously themed bite sized desserts paired with four 5oz pours of our handcrafted brewz.
Stay tuned for a menu and more details!
Our friendz from Swampcat Brewing Company will be in the house giving away free samples of their brewz. We also are releasing a brand-new beer that we collabed with them on: Pumpkin Gold Ale! It doesn't stop there though, we will be tapping this brew out of a REAL PUMPKIN! That's right, come experience the "pumpkin tapping" starting at 4pm till sell out!
If that wasn't enough to entice you, come dressed up in your spookiest, funniest, or scariest costume and receive 50% off your first drink or wear our newest Halloween t-shirt! What are you waiting for, mark it down in your calendar now before you forget!