Holiday Sip & Shop
published December 10, 2022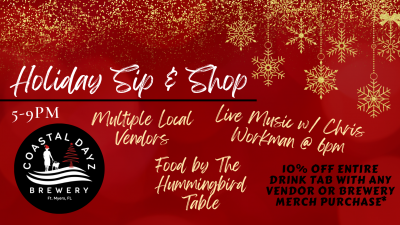 12/10/2022
5:00pm - 9:00pm
Location
Coastal Dayz Brewery
Do you struggle to find the perfect gift? Are you tired of not being able to enjoy a cold craft brew or wine while you shop for your loved ones? Don't worry, we have the perfect solution. Introducing Coastal Dayz Inaugural Holiday Sip & Shop! Join uz on December 10th from 5-9pm as we welcome local vendors to come in and sell their wonderful goods. Chris Workman will be providing the live tunez from 6-9pm to help get you in the shopping mood. We will also be offering 10% off your drink tab with a purchase from any one of the vendors or a purchase of our merchandise.
Exceptions: Not valid with any other discount, only valid for purchases made from 5-9pm, discounts do not stack, and discounts are non-transferable. Coastal Dayz reserves the right to refuse the use of any discount due to abuse or misuse.
In other words, be responsible, this benefit is meant to help support our wonderful local vendors while rewarding their customers.