Hopz-N-Howlz
published April 29, 2023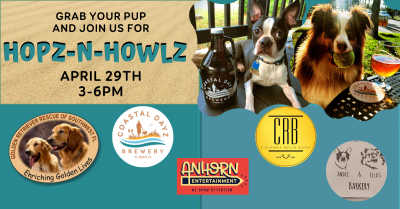 04/29/2023
3:00pm - 6:00pm
Location
Coastal Dayz Brewery
Dog dayz are back!
If you have ever been to our brewery, you know how much we love our furry friendz so we figured why not have a day dedicated to them.
The Golden Retriever Rescue of Southwest Florida will be onsite with a few of their heart melting ambassadogs. They will also be selling retail items as well as doing a 50/50 with the proceeds benefiting their mission of helping goldens find their furever home.
For more information on FRRSWF please check out their website at: https://grrswf.org/
The ever so talented Caloosa River Band will be in the house performing live from 3-6pm.
SWFL Barkery will also be onsite selling fresh handmade dog treats made straight from the spent grain of our beer. (Don't worry though, they will not contain alcohol *silly)
Anhorn Entertainment iz also back to bless us with his talents and draw caricatures of you and your pup to help commemorate the loving bond between humans and our four-legged friendz.