Karaoke with ArcAngel
published April 23, 2021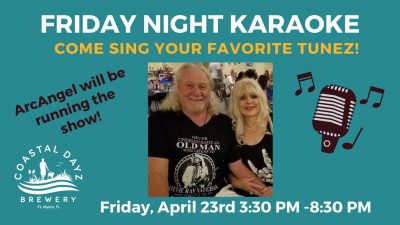 04/23/2021
3:30pm - 8:30pm
Location
Coastal Dayz Brewery
It'z Anniversary Karaoke at Coastal Dayz Brewery! Friday, April 23rd from 3:30 PM – 8:30 PM
You love karaoke, maybe breathe it, or it just simply entertains you.
Perhapz, you will take the mic and sing an ode to Coastal Dayz 3rd Anniverzary! Come sing your heart out with your friends or applaud those who take the stage!
ArcAngel will be here running the show and getting you ready to take the stage!
Toast with your favorite Coastal Dayz brew, including a special anniverzary releaze: Seaz the Day IPA treated on ripe Tangelos!