Live Music Bingo AFTER DARK
published November 2, 2023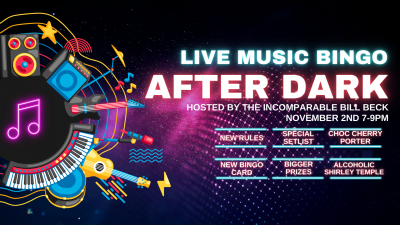 11/02/2023
7:00pm - 9:00pm
Location
Coastal Dayz Brewery
What happens when you let a musician and a brewer sit down and chat over a few Seaz The Days? You end up with a brand-new event! Introducing live music bingo after dark – an adult spinoff on our classic Sunday Music Bingo, but with MUCH MORE!
Bill Beck has crafted a special setlist just for the night – we are breaking out everything from baby making tunez to love songs and much more! There will even be a brand-new bingo card including a total makeover, a write-in space and even BIGGER PRIZES!
We will even have a few drink specials just to get you in the mood including the release of a BRAND-NEW beer, a chocolate cherry porter, as well as a BRAND-NEW creation our brewers have been working on – an Alcoholic House Made Shirly Temple!
We told you we were pulling out all the stops – If you purchase one of our special releases you get special access to play TWO CARDS AT ONCE!
It doesn't stop there though; we are even setting up a "Kiss The Musician Booth"! (Disclaimer: Just Kidding!) However, everything else is 100% true and we cannot wat to debut this brand-new event with all of you!