National Craft Beer Week
published May 15, 2023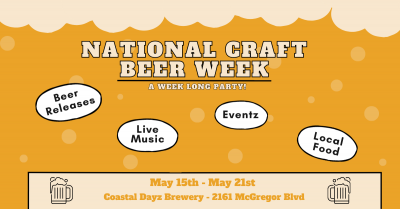 05/15/2023 - 05/21/2023
All Day
Location
Coastal Dayz Brewery
It'z time for the best week of the year – National Craft Beer Week! We have a week jampacked full of surprises, releases, events and more in celebration of the week. For specific event detailz please visit the event page. Here is a short list of what'z going on this week including the return of one of our most requested beers – Sum Beach!
Monday 15th: National Pizza Party Day / Kickoff Party
– Dave's Mobile Pizza 5pm w/ special discounts
– Live Music: Jacob Engelking 5-8pm
– Beer Release: Mango Blonde Ale
Tuesday 16th: Tap- It Tuezday
– Chi-Town Dawgs – 5pm
– Beer Release: Blueberry Lemon Sour – Collab w/ Blueberry Bunch Farms
Wednesday 17th: Trivia Night
– Street Food 101 – 5pm
– Trivia: 6:30-8pm (BIGGER AND BETTER PRIZES – ONE NIGHT ONLY)
Thursday 18th:  Tacos & Beer Deal
– Street Food 101 – 5pm
– 2 Tacos & A Draft Beer $13
Friday 19th: Reggae Night Returns!
– Nostlajah Solo: 7pm
– Hummingbird Table w/ Jamacian Eatz Menu
– Beer Release: Blood Orange DIPA
Saturday 20th: The Return of Sum Beach Cream Ale!
– Radical Rations – 4pm
– Sum Beach Returns to the Taplist! – 1pm
Sunday: 21st: Live Music Bingo
– Street Food 101 – 5pm
– Bill Beck iz Back Performing live at 1:30