Oktoberfezt 2021!
published October 16, 2021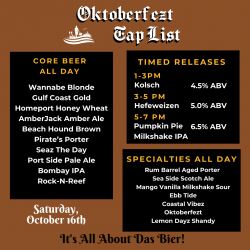 10/16/2021
12:00pm - 10:00pm
Location
Coastal Dayz Brewery
Since last year didn't count, we are pulling out all the stops to throw the best Oktoberfezt yet and the best part is that it'z FREE to attend!
There will be beer releases all afternoon long, stay tuned for a tap list! We will also be releasing our crowd favorite seasonal Oktoberfezt beer!
Event shirts and mugs will be available for purchase during the event as well!
Indulge in delicious authentic German food from The Meat Cottage, fresh handmade pretzels from Auntie Anne's, and cure that sweet tooth with Hippie Trippy's delicious ice cream!
DJ Bryant will be on the turntable from 12-3pm with Yabo Brothers back in the house from 4-8pm!
But wait, there is more! Chuck-It-Axes will be joining us in the celebrations to satisfy all your axe throwing urges and we'll be having contests such as best authentic German-themed outfit and stein holding contests as well as giveaways throughout the day!
Come on by and celebrate with uz! Prost!