National Pizza Party Day!
published May 15, 2023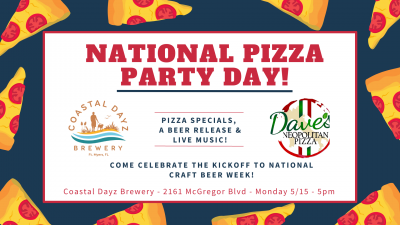 05/15/2023
5:00pm - 8:00pm
Location
Coastal Dayz Brewery
Who says we can't have fun on a Monday?! Join uz Monday the 15th as we have a lot to celebrate. It's the kickoff to National Craft Beer Week AND it's National Pizza Party Day so we figured let's throw a party!
Dave's Neapolitan Pizza will be on site starting at 5pm serving up delicious pies with special discounts too just for the event!
It wouldn't be a party without music, so we invited local artist Jacob Engelking to make his Coastal Dayz Debut from 5-8pm!
Finally, how could we not have a beer release for the kickoff party of National Craft Beer Week?! We will be tapping a small batch brew of a Mango Blonde Ale.
Can't make it? Don't worry, we will have events ALL week and releases ALL week so check out our social media for all the details.