Popcorn & Beer Paring
published April 22, 2023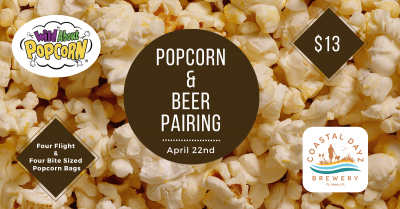 04/22/2023
1:00pm - 10:00pm
Location
Coastal Dayz Brewery
Based on the amazing feedback from our last food and beer pairing we decided who better to partner up with than the amazing crew over at Wild About Popcorn. We sat down with Ed and devised an amazing lineup for you featuring new flavors you don't see in the taproom as well as the classics.
The Menu:
Loaded Baked Potato – Rock N Reef Irish Red
Buttery – Gulf Coast Gold
Sea Salt Caramel – Kraken's Curse Irish Stout
Sweating Bullets – Bombay Double IPA
A $13 ticket gets you a flight of 4 5oz pours and 4 snack size bags of popcorn.
Just in case you find a flavor you love, we will be selling bags of all the event flavors so that you can take them home to enjoy later! Interested in purchasing a ticket? Visit our taproom or shoot us an email and we will get you hooked up.