River District Food and Brew Festival
published May 25, 2019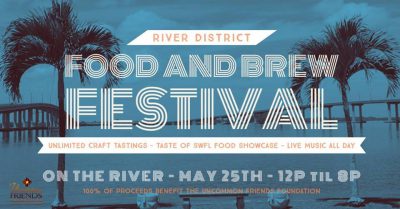 05/25/2019
12:00pm - 8:00pm
Location
Burroughs Home & Garden
You're invited to our first-ever River District Food and Brew Festival on Saturday, May 25 from noon to 8:00 p.m. at the historic Burroughs Home & Gardens located right on the waterfront at 2505 First Street in Fort Myers. Don't miss the only area festival set on the waterfront.
Tickets are available at https://www.eventbrite.com/e/river-district-food-and-brew-festival-tickets-60146051459 for $30. Guests must be at least 21 years of age to attend.
BREWERIES:
Coastal Dayz Brewing
Crazy Dingo Brewing
Eight Foot Brewing
Ankrolab Brewing
Millennial Brewing
Big Top Brewing
Bury Me Brewing
Scottys Bierwerks
Fat Point Brewing
Food Vendor List Coming Soon!
100% of the event's proceeds will benefit Uncommon Friends Foundation.
Guests will enjoy the live music of Steve Farst's acoustic guitar and other performers, while enjoying unlimited cold beer samples and great food from 8+ independent SW Florida craft
breweries and restaurants. Relax and soak in the expansive waterfront views, as you enjoy craft beers, food and fun activities. Seating and tables will be available. Free parking is across the street at the Langford-Kingston home at 2500 First St. Stay updated at www.rdfoodandbrew.com.