Dave's Mobile Pizza and More
published September 9, 2023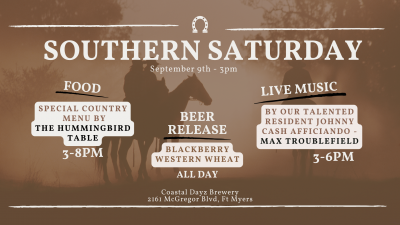 09/09/2023
3:00pm - 6:00pm
Location
Coastal Dayz Brewery
t'z time to grab your boots and get scootin' on over to Coastal Dayz for our newest event – Southern Saturday! It's fixin' to be a great time September 9th starting at 3pm!
Our resident Johnny Cash aficionado will be performing live from 3-6pm. If you love Johnny Cash style of country and haven't seen Max Troublefield perform before then you are missing out! Max is an extremely talented local musician especially when it comes to old school country and performs an array of classic covers as well as originals.
It wouldn't be a Southern Saturday without amazing home cooked food. The Hummingbird Table has that department well covered. The menu will consist of a plate of southern goodness, your pick of 1 meat, 2 sides and cornbread for only $20!
Meat Options: Fried Chicken or Carolina Style Pulled Pork
Sides: Collard Greens, Rice, Potato Salad, Black Eyed Peas
Beer Release: In honor of all things southern we will be tapping a brand-new brew: Blackberry Western Wheat! This will only be a small batch so come on out and get it before it'z gone!