SWFL Craft Beer Week 2022!
published September 2, 2022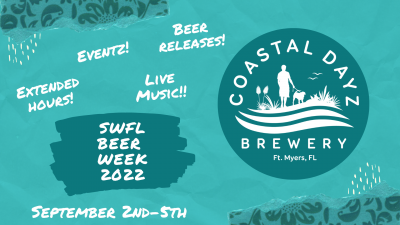 09/02/2022 - 09/05/2022
All Day
Location
Coastal Dayz Brewery
Join us for SWFL Craft Beer Week happening Labor Day weekend!!
Hourz:
Friday Open 1-11pm (OPEN LATE)
Saturday Open 1pm-10pm
Sunday & Monday Open 1pm-9pm (SPECIAL HOURS)
Eventz:
Reggae Night (Friday 9/2) OPEN LATE
It'z time to kick off SWFL Beer week in style; we are throwing a party you can't forget Friday night on September 2nd. Starting at 7pm our taproom will transform into a Jamaican oasis filled with positive vibez, light displays, and reggae music provided by SWFL's popular Reggae artist, Nostaljah! The tunez will continue through the night as we will be open late till 11pm! We will also be tapping one of the dankest brewz we have made to date and The Hummingbird Table will be on site serving delicious Jamaican food to pair. Join our beertenders in dressing up for the night and come pregame with uz early!
Music Bingo & Live Music (Sunday 9/4)
Join us for some fun music bingo from 2pm-5pm!  Relax and listen to music while you fill your board and win free beer! Stay after for live music from Tim Heard starting at 5pm!
SWFL Beer Week: Hazy Fest (Monday 9/5)
Looking for the best way to close out SWFL Beer Week 2022? We have you covered! Join uz September 5th to celebrate all things hazy during our Hazy Fest. This day will be solely dedicated to hazy IPA's and all their delicious fruity goodness. We are releasing not 2, not 3 but FOUR brand new Hazy IPAs! These small batches will only be available on September 5th. Stay tuned for the lineup!
Live Music:
Friday @ 7pm-10pm – Nostaljah
Saturday @ 5pm-8pm – Max Herrick
Sunday @ 5pm-8pm – Tim Heard
Food:
Friday @ TBD – The Hummingbird Table
Saturday @ TBD – TBD
Sunday @ TBD – TBD
Monday @ TBD – TBD
Beer Releases:
Friday: Dank IPA
Saturday: Rum Porter w/ Vanilla, Maple & Cocoa Nibs
Sunday: Coffee Vanilla Brown Ale
Monday: 4 Brand New Hazy IPA's (see event description for detailz)