The Derby @ Coastal w/ Mangiamo!
published September 5, 2020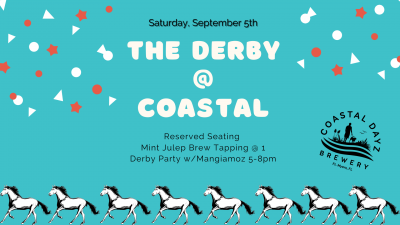 09/05/2020
5:00pm - 8:00pm
Location
Coastal Dayz Brewery
The Derby at Coastal!
Hey folkz, get ready because we've got an awesome night of fun for you! Join us Saturday, September 5th for The Kentucky Derby! We will be tapping a delicious Mint Julep brew at 1pm. This is a small batch you don't want to miss! We aged this beer with bourbon soaked oak chipz plus an abundant amount of mint that'll be sure to remind you of your favorite Southern cocktail!
The Race is at 7pm and we are offering reserved seating for you to enjoy the race, be comfortable, and remain safe! Mangiamo's will be here for dinner! They will be serving up their delicious meatballz & more!
Check out the information below!
• Reserve your seatz for the Race for $10 per person! The $10 goes back to your tab on Race Night!
• You MUST stop into The Brewery to reserve seatz (Only 26 available!)
• On Race Night, reserved seating begins at 5pm!
• Please arrive by 6pm or your seat will be given away & we will keep the deposit!
DRESS TO IMPRESS! If you decide to dress up for the race, you can enter a drawing for swag AND best dressed will win a gift card!
So remember folkz, stop in to Coastal, reserve your seatz, and let'z have a DAM(you know, like the female horse!) good time! Cheerz!