Trivia Night!
published November 18, 2020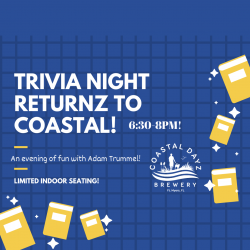 11/18/2020
6:30pm - 8:00pm
Location
Coastal Dayz Brewery
Trivia Night iz back!!! We are putting a new spin on Trivia @ Coastal! Join us for Trivia hosted by Adam Trummel! Trivia starts at 6:30pm! There is very limited indoor seating so get here early. And don't forget the last Wednesday of the month will be GFT(Gary's Fun Trivia!) hosted by Gary & Lisa, themselves! Put your thinking capz on & get ready for an awesome night!