Trivia with the Brewer!
published August 21, 2019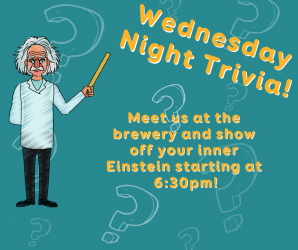 08/21/2019
6:30pm - 8:30pm
Location
Coastal Dayz Brewery
***FALL TRIVIA LEAGUE BEGINS 10/2/19 – 11/20/19
Join us with your best trivia buds for four rounds of trivia! Each round has five themed questions thought up and hosted by the brewer himself. Winners receive free beer prizes after each round and the overall winners receive gift certificates toward their next tab!
*Due to space limitations, we can only host 15 teams at a time (with a maximum of 6 members each) so arrive early to guarantee your spot!